I don't care what people say about Jimmy, he may not be the best driver; he may not be the smartest driver. But when it comes to driving Jimmy doesn't forget. I like Jimmy because he doesn't care what he will say or who hears it's there is NO BULL with Jimmy. He is a down to earth, drive by the seat of your pants driver, and that is why he is called Mr. Excitement. Jimmy goes to the track to race not bullshit about everything else but, like so many drivers do today. As a fan I won't forget Jimmy.
Maddogg!
Spencer Bio:
| | |
| --- | --- |
| Age: 44 | Height: 6'1" |
| Birthdate: February 15, 1957 | Weight: 220 lbs |
| Birthplace: Berwick, PA | Marital Status: Married , Pat |
| Residence: Cornelius, NC | Children: Jimmy & Katrina |
---
NASCAR Winston Cup Statistics:
| | |
| --- | --- |
| Years: 13 | First Season: 1989 |
| Starts: 370 | Top 5 Finishes: 25 |
| Poles: 3 | Top 10 Finishes: 70 |
| Wins: 2 | Earnings: $12,448,721 |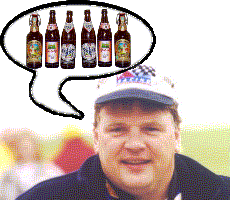 Beer....I like Beer
Some Quotes
Buddy Baker said, "Spencer runs every lap like it's the last."
------------------------------------------------------------------------------
Geoff Bodine after getting into it with Jimmy in the Spring '97 race at Bristol (not a smart move) said, "He just flat ran into me. That was really stupid. I'm not whining. I'm not bitching. I'm just stating a fact. Spencer ran into me. He's wild out there. He's crazy. It's ridiculous." Jimmy replied: "I don't know. Something happened there with Geoff Bodine and I got together a little bit. I thought it was racing. He evidently forgot to put his helmet on straight or something. Then what he did afterward was totally wrong and uh, he tore my car up. I don't care." Well Geoff, we all saw who got fined on that one. Kind of stupid to take both of you out when you both could have had a top ten finish. Reminds me of what Geoff did with Brett while leading at the first Brickyard. He could have won the whole thing, but let his temper get the best of him and ended his day with stupidity.