Dale Earnhardt Jr. has been considered the future of NASCAR by the motorsports media since he blasted onto the scene with a Busch Series championship in 1998. With that title, the son of seven-time Winston Cup champion Dale Earnhardt became the first third-generation NASCAR champion. Now, the future has arrived, as he and the No. 8 Budweiser team are on the short list of pre-season favorites in this years Winston Cup championship chase.

The 27-year-old Earnhardt Jr. has recorded five career victories in Winston Cup competition, and is the only rookie to win The Winston all-star race. He and the No. 8 Bud team have zoomed to four Bud Pole positions and 20 top-10 finishes since entering five races in 1999. In that time, the team has earned race winnings of more than $8.5 million.

The 2002 season is the third full year of Winston Cup competition for the team, led by crew chief Tony Eury. The 2001 season marked the first top-10 points finish for the No. 8 Bud team, while adding three victories and more than $5.8 million in winnings to their brief but impressive racing resume.

Dale Jrs grandfather Ralph Earnhardt is considered one of the greatest NASCAR drivers of all-time, while his father Dale won a record seven Winston Cup crowns and more than $41 million in career winnings. In addition, his maternal grandfather Robert Gee was a renowned NASCAR fabricator and mechanic.

Prior to his Winston Cup career, Earnhardt Jr. dominated the Busch Series for two seasons winning two championships, 13 race victories and more than $3 million in 1998 and 1999. A resident of Mooresville, N.C., Dale Jr. began his driving career at age 17, competing in the street stock division at Concord (N.C.) Speedway.

Beyond the racetrack, Earnhardt Jr. writes his own monthly column that appears on NASCAR.com and in Winston Cup Scene magazine. He has been featured on the cover of many of the most prominent magazines in the United States, including TV Guide, Sports Illustrated, People, ESPN the Magazine, and USA Weekend. He has twice been profiled with major stories in Rolling Stone magazine and was the subject of the Playboy Interview in September 2001. He was selected for People Magazines Sexiest Men issue in October 2000 and 2001s Most Intriguing People issue.

On the broadcast front, he has appeared on the Tonight Show with Jay Leno, the Today Show, Good Morning America, and was the focus of two major MTV documentary programs: Cribs and True Life, Im a Race Car Driver. He appeared at the 2001 MTV Music Video Awards show, introducing the band Linkin Park. Fox Sports also featured Dale Jr. in a segment of their pre-game coverage of the 2002 Super Bowl.

His face can be seen in major national media promotions for sponsors Budweiser, Remington, Drakkar Noir, InterAct gaming accessories and Nabisco. He also co-starred in a music video with the Canadian rock group the Matthew Good Band.

He recently completed a 60 x 100-foot garage behind his home, where he enjoys hanging out with his buddies, and working on his ever-growing herd of street cars and a street-stock race car. His hobbies include music, computers and computer gaming. He enjoys hanging out on his boat at Lake Norman and takes pride in chillin the most when hes not at the race track.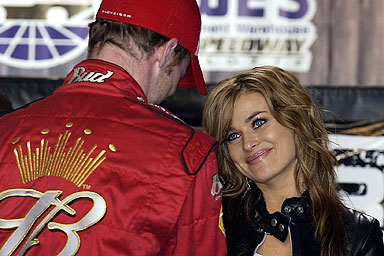 Dale Jr. Quotes for Michigan
"Michigan is a track where you can really carry speed all the way around the track. Were easily topping 200 mph along the back straight, and the wide turns give you a chance to pass if your car is working well.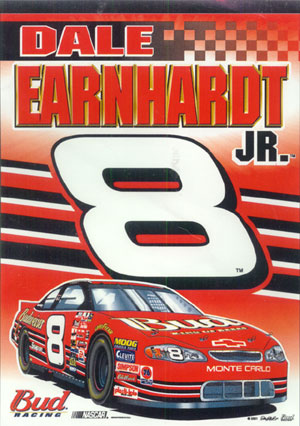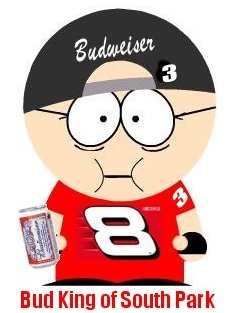 The Yellow Line Bullshit Stories.
Click the links to read some bullshit..